Cheers erupted across City Park today (Tuesday 31st May) as an assembled crowd gathered around the Big Screen to see Secretary of State for the Department of Digital, Culture, Media and Sport (DCMS), Nadine Dorries, announce live on BBC 1's The One Show that Bradford was the winner of the UK City of Culture 2025 title.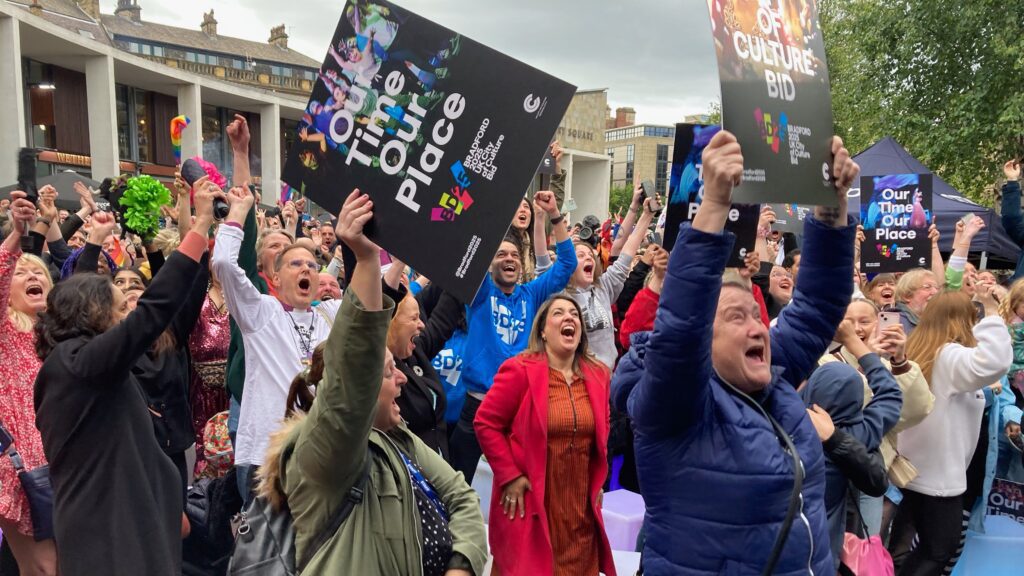 Bradford will now receive £275,000 in initial seed funding to make sure the city can hit the ground running and get the wheels in motion early as it develops its plans for 2025. This grant will help pave the way for a year of unforgettable cultural activities and events.
Winning the UK City of Culture title is a game-changer for the Bradford district – which includes Bradford, Keighley, Ilkley, Haworth, Shipley and Bingley – putting it firmly on the national and international stage. A City of Culture designation brings considerable long-term benefits including increased employment, new investment, enhanced skills, renewed pride, greater cultural capacity and more opportunities to participate in arts and cultural activities. It is estimated that the UK City of Culture 2025 title could bring an extra £700m into Bradford district, creating 3,000 jobs and attracting around 1.1m visitors by 2030.
For more information – visit www.bradford2025.co.uk